Ethereum has seen a significant drop in its supply over the past month, with a net decrease of 10,145.72 ETH and a deflationary value of approximately $16 million.
A deflationary network can have implications for the cryptocurrency's value, as a decrease in supply can increase demand, driving up the price
More ETH Burned Than Minted
Deflation in the context of Ethereum refers to a decrease in the overall supply of ETH tokens. This occurs when the amount of ETH being removed from circulation, through processes like token burning, is greater than the amount being created newly minted tokens awarded to validators.
The recent net decrease in supply of 10,145.72 ETH marks a continuation of a trend that has been ongoing for some time, as the annual growth rate of the Ethereum has dropped to -0.012%, according to data from Ultrasound Money.
This development has sparked interest among experts and investors alike, who are now exploring the potential causes and implications of this trend. Some believe that the decrease in the supply of ETH could be a sign of increased demand for the currency, as investors seek to acquire a larger stake in this valuable asset.
Others argue that the trend may be driven by economic factors, such as a rise in the number of people who are holding their ETH for the long term, rather than trading it on the market. Regardless of the cause, the decrease in the supply of Ethereum has attracted significant attention, as the current total supply of the currency stands at 120,515,722 ETH.
Ethereum Price Hangs by a Thread
The declining token supply has also been accompanied by a drop in the overall market value of the currency, which has fallen 67.50% from its all-time high of $4,877 to approximately $1,570, at the time of writing.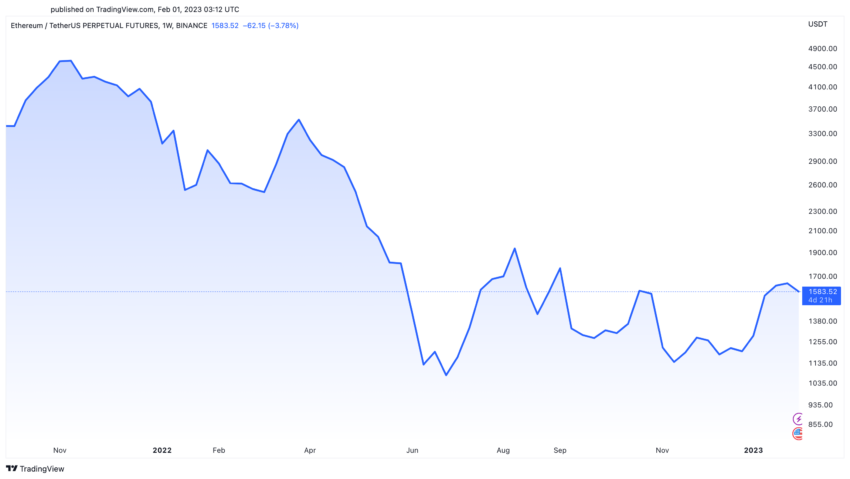 The significant dip in the price of Ethereum could extend as market analysts anticipate that the upcoming Shanghai upgrade may encourage holders to rush to exchanges to liquidate around 1 million ETH from staking rewards.
Despite these recent developments, the Ethereum community remains optimistic about the future of the currency.
Many experts believe that the underlying technology behind ETH will continue to evolve and drive new innovations in the crypto space. And developers continue working on improving the scalability and security of the network, which is expected to drive further growth in the coming years.
Disclaimer
BeInCrypto strives to provide accurate and up-to-date information, but it will not be responsible for any missing facts or inaccurate information. You comply and understand that you should use any of this information at your own risk. Cryptocurrencies are highly volatile financial assets, so research and make your own financial decisions.